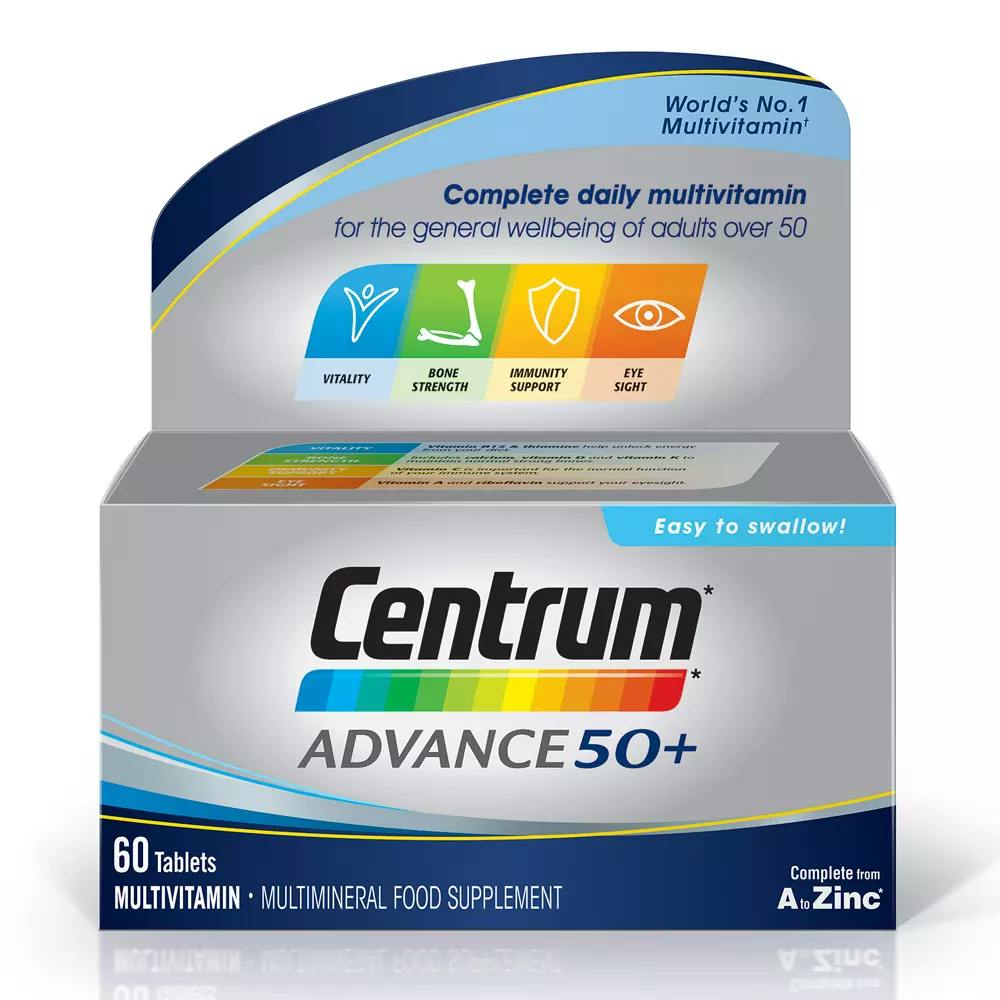 Getting older doesn't mean you have to slow down, but it may mean you need to adjust your nutrient levels to respond to your body's changing needs. Centrum Advance 50+ is specially crafted to support your body at age 50 and beyond. It's made with high-quality ingredients and essential vitamins and minerals to help support your heart14, bones5 and eyes13. Centrum Advance 50+ is backed by over 40 years of nutritional science from the world's No.1 brand of multivitamin †.
Age-adjusted formula with micronutrients, complete daily multivitamin
Centrum Advance 50+ contains vitamins which help to support vitality8, support the normal function of the immune system9, eyesight13and normal strong bones5
High in Vitamin D
A supplement that supports your diet with high-quality micronutrients
Comes in a smooth-coated, easy to swallow tablet
Free from wheat, gluten, milk, lactose, nuts, sugar and GMO

Vitality
Vitamins B12 & Thiamine help unlock energy from your diet
Eye Health
Vitamin A and riboflavin helps support normal vision
Immune Support
Nutrients such as Vitamin C, D and zinc, each help to support the normal function of the immune system
Bone Strength
Includes Calcium, vitamin K which each help to maintain normal strong bones
High in Vitamin D
Centrum Advance 50+ is high in vitamin D which can help to support the normal function of the immune system and maintain normal strong bones.
General Wellness
Packed with key essential nutrients important in supporting your body and to help fulfil your nutritional needs
Vitamin D
Vitamin D helps maintain the normal functioning of the immune system. It also contributes to maintaining bones and teeth, as well as normal muscle function.
Vitamin B12
Vitamin B12 helps to reduce tiredness and fatigue and contributes to the normal formation of red blood cells.
Riboflavin
Riboflavin (Vitamin B2) contributes to reducing tiredness and fatigue, to maintaining normal vision and normal functioning of the nervous system.
Vitamin A
Vitamin A plays a role in the maintenance of normal vision, the normal functioning of the immune system and the normal process of cell specialisation which is the process by which generic cells change into specific cells meant to do certain tasks within the body.
Thiamine
Thiamine (Vitamin B1) supports the normal functioning of the heart and the nervous system, and supports energy-yielding metabolism.
Calcium
Calcium is essential for the maintenance of normal bones & teeth. Calcium also supports the normal formation of blood clots.
Suggested Use
For adults over 50, take 1 tablet daily with water.
The recommended daily consumption must not be exceeded

Q. What is the difference between Centrum Advance and Centrum Advance 50+ multivitamins

A. Centrum Advance 50+ has been specifically formulated to help meet the nutritional needs of adults 50 years and over. As you age, your body's physiological needs, as well as your dietary requirements change. Centrum Advance 50+ takes into consideration these physiological changes, to bring you a formula designed to help meet the changing needs of adults. Each Centrum Advance 50+ tablet has a smooth, clear outer coating that makes it easy to swallow.1

Compare any two products to see the amounts and daily values of vitamins and minerals in each.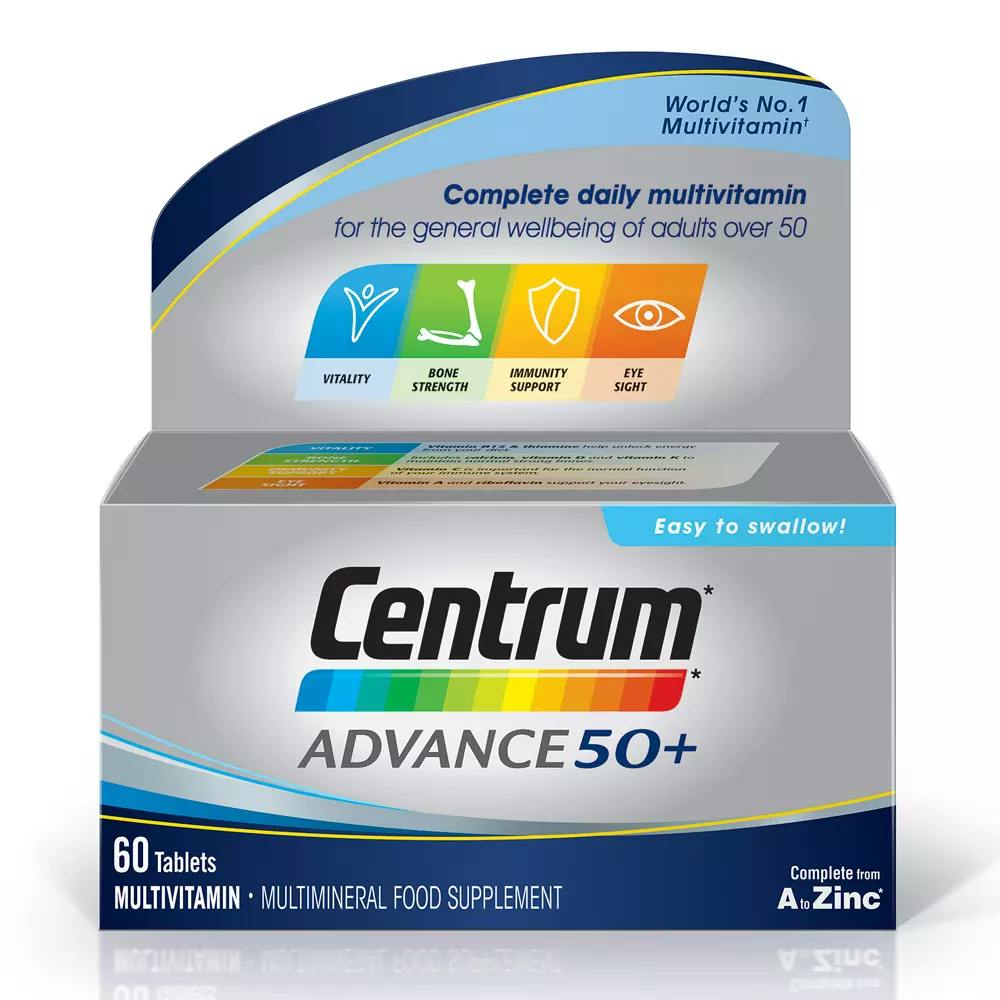 Multivitamins are intended to supplement your diet and should not be regarded as a substitute for a varied diet and a healthy lifestyle.
Contains vitamin D which contributes to the normal function of the immune system
Contains Iron and Folic Acid which supports normal blood formation
Contains Calcium, Magnesium and Vitamin D which contributes to normal muscle function
Contains Vitamin B6 to help regulate hormonal activity
Contains Calcium, Vitamin D and Vitamin K to help maintain normal strong bones
Contains Vitamin D essential for normal growth and development of bones in children
Vitamin C, Vitamin E, Selenium and Zinc all contribute to the protection of cells from oxidative stress
Contains vitamin B6 and B12 to help release energy from food and contribute to overall health
Contains vitamin D, C and zinc which contributes to the normal function of the immune system
Biotin and zinc contribute to the normal metabolism of fats, protein and carbohydrates
Biotin and zinc help to maintain normal hair and skin. Selenium helps to support normal nails.
Pantothenic Acid contributes to normal mental performance.
Vitamin A and riboflavin help support normal vision
Vitamin B1 (Thiamine) to support normal heart function
Vitamin B12 which contributes to the reduction of tiredness and fatigue
Iron contributes to normal cognitive function.
The profiling is only for the recommendation of suitable products. No data is stored.
†Based on worldwide value sales of the Centrum range. For verification please contact mystory.gb@haleon.com